Professor Michaela Sambanis
Brain Matters: Translating Findings from Neuroscience into EFL-Classroom Practice
Material:
---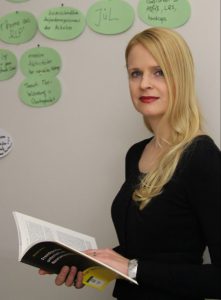 Professor Michaela Sambanis is Chair of English Didactics at the Institute of English Language and Literature at the Freie Universität Berlin, Germany.
From 2008 to 2011 she chaired a large interdisciplinary research unit at the Transfer Center for Neuroscience and Learning at the University of Ulm.
Her research interests include pedagogy, translation and application of findings from neuroscience, empirical research, literature, drama in language teaching and learning, as well as drama methods in teacher training. She published on collaborative forms of language teaching, and her latest book, Fremdsprachenunterricht und Neurowissenschaften, was published in 2013.
(Photo: A. Middeldorf / Freie Universität Berlin)