Professor Judit Kormos
Teaching Learners with Specific Learning Differences
Professor Judit Kormos (University of Lancaster) was the keynote speaker at the conference Inklusiver Englischunterricht — Gemeinsam Lehren und Lernen, which was held at the Leuphana University Lüneburg in September 2018. The conference was organised by the ZZL-Netzwerk Lehrerbildung (Heterogeneity & Inclusion) and the Qualitäts- und UnterstützungsAgentur Nordrhein-Westfalen (QUA-LiS NRW). For more information about the conference, visit our partner, the Netzwerk Inklusiver Englischunterricht.
The conference is opened by Professor Dr. Torben Schmidt, chief project investigator for the ZZL-Netzwerk Lehrerbildung and professor of didactics in the Institute of English Studies. Professor Dr. Kormos is welcomed by Professor Dr. Sascha Spoun, president of the Leuphana University Lüneburg, and introduced by Dr. David Gerlach, founder of the Netzwerk Inklusiver Englischunterricht.
Material:
---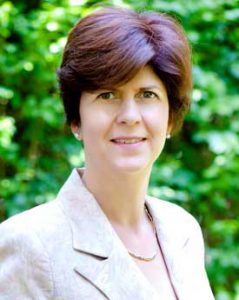 Judit Kormos is a Professor and Director of Studies for the MA TESOL Distance programme at the Department of Linguistics and English Language at Lancaster University in the UK, where she teaches Applied Linguistics. She is the coordinator of the Dyslexia for Teachers of English Foreign Language Project, funded by the European Commission. Kormos is renowned especially for her work on motivation in second language learning and self-regulation in second language writing.
Five years after Kormos graduated from the Eötvös Loránd University in Budapest, she gained her PhD at the same university in 2004. In 2008, she took a lecturer position at the Lancaster University. She has been a member of the editorial board of the Journal of Second Language Writing since 2011. In 2012, she was promoted to a Readership and received the Duke of Edinburgh Book Prize Shortlist as well as the Pilkington Teaching Award. Kormos was awarded the National Teaching Fellowship in 2013. Together with a European team, she won the ELTons award of the British Council in the Excellence in Course Innovation category in 2014. In 2015 she was awarded a personal chair and became Professor of Second Language Acquisition. Kormos has published numerous books and high impact journal articles dealing with topics such as teaching language learners with specific learning difficulties and the psychological aspects of second language acquisition and second language learning.
Kormos has a special interest in second language learning and teaching students with learning difficulties and disabilities. As a result of her work in this field, she has developed the critically-acclaimed MOOC, Dyslexia and Foreign Language Learning. She examines the psychological effects of dyslexia on the processes of foreign language learning and is currently interested in the question of how dyslexic students can be supported in second language learning. Her latest research project is on comics for inclusive English language learning.